First Generation – The Start from Scratch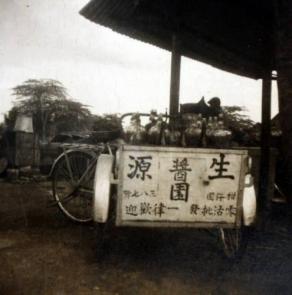 When he was only five years' old, Leong Pak Sang tugged along with his mother travelling south from China after his father had passed away. Believing the streets were paved with gold, they left their Native Xinhui County, Guangdong Province, arrived in Malaysia and settled down in a small town called Kampar.
Pak Sang was close to his mother, who devoted her time to raise him. Even as a child, Pak Sang knew all the hardship that his mother had gone through. He wanted to alleviate the burden of his mother so he eventually gave up schooling at an early age and started to work instead. Squeezed out by poverty, this lad was a young man ripe for whatever the society has to offer.
Raised by a single parent under harsh conditions had made him a stronger person. When the going gets tough, the tough gets going – that is what he believed in. He faced the challenges bravely and never gave up despite failures.
When he was 19, he was drawn forward by what he dreamed lay ahead. He left Kampar and came to explore Penang – the province of opportunity where the golden door offered higher pay and more opportunities. Stepping in the unfamiliar land all by himself, he boldly went around asking for a job.
He eventually found a job as an apprentice at Hor Zhen Soy Sauce Manufacturer.
Within two years at the consequence of serendipity, he bought a factory and from a novice, he became the owner. Sang Yoon Soy Sauce was his first step into the business world.
Due to deprivation and limited resources, the business started at a slow pace. Despite the eviction and destitution, he took setbacks as his stepping stone to be stronger. After years of hard work, he succeeded in opening his first retail in town selling soy sauce of his own brand.
With a pledge to his mother to improve their living standard, Pak Sang never loosen up. He kept going to bring Sang Yoon Soy Sauce on track and expanded the business.
Not long after the business progresses on the right trail, he partnered with his friends to run Tai Tong Restaurant. Located beside the restaurant, there was a hor fun factory and occasionally, the owner used to come over to the restaurant to borrow the phone for calls and he developed a good bond with Pak Sang.
When Pak Sang learned that the owner was planning to migrate and giving up his hor fun business, this quick-witted young man took up the chance to take over the factory with RM1200. This writes another chapter of his venture into the business world. He began to focus on producing hor fun, vermicelli and noodles. As time goes on, the soy sauce business was replaced by the latter business – providing supply to all over the states.
Second Generation – Expand The Dream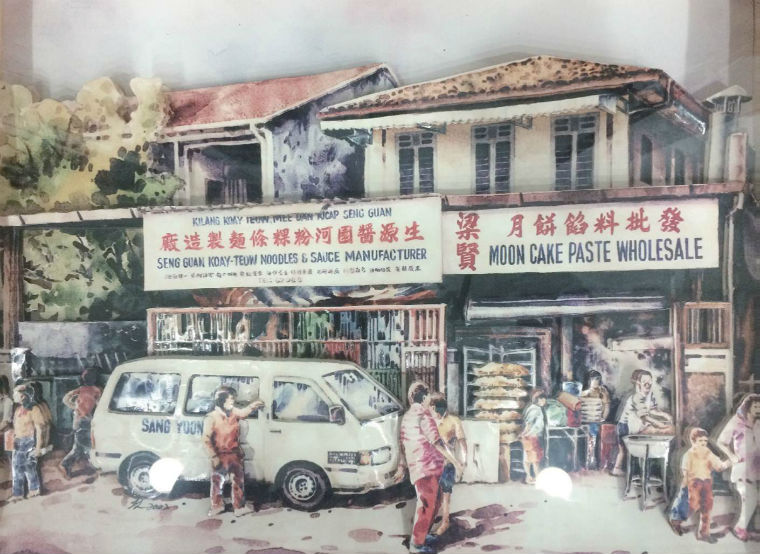 Since childhood, Leong Seng Yoon, a son of Pak Sang saw all the hardships that his father had gone through. He followed his father's footsteps. He started as a little helper for his father by going around selling soy sauce on his bicycle and delivering hor fun on his trishaw.
At requests, he also helped customers to send goods such as beansprouts, seasonings and pepper. There were also times when he even helped his customers to pick up their children from school along the way while delivering orders!
Following his father's traits, Seng Yoon developed courage to diverse the business. In 1975, he went to Hong Kong to learn pastry-making a famous restaurant in Yuen Long Street. At that time, the whole street was packed with eateries selling delectable foods. Being surrounded by wonderful delicacies triggered his sense of taste to open another door to possibility. He pursued his passion in food offering by bringing back what he had learned and applied to his father's business.
Back in Malaysia, Seng Yoon brought in Hong Kong's delicacies by making salted egg puff, century egg puff, wife cake (lor phor peng) and frying lotus paste. He introduced the pastry products to the market by opening stalls around the town.
Encouraged to be competitive and strive for excellence, Seng Yoon showed his intuitive capability when he successfully launched his own Chinese pastries to the market and built up his very own Leong Yin Pastry Sdn Bhd – focusing on manufacturing pastes and mooncakes.
In 1981, Seng Yoon succeeded in introducing Pandan paste which had gained market popularity among the local customers and also in many other countries such as Singapore, Thailand, Vietnam, Myanmar, Cambodia, Indonesia, Brunei, China, Hong Kong, Taiwan, Philippine, U.S., Australia, U.K. and Middle East.
Third Generation – When It Is More Than Just Business

Growing up along with the businesses, Leong Kok Fei, the only son to Leong Seng Yoon, learned so much from his father on handling the business. Kok Fei admires and respects his father, getting involved in the production and working along with the workers. He spends most of his time at the working area, which was like a playground for him when he was a child. Hence, Kok Fei learned the ropes from his father on how to better run their business.
Over the years, Leong Yin Pastry grew to new heights by adapting to a changing environment, and by continuing to expand its own unique core products and market niches.
In 2004, Seng Yoon handed over the family business to Kok Fei, who became the Managing Director.
Kok Fei expanded the business and in need of a bigger place, the factory was relocated to Juru Industrial Park in 2007. Machinery and technology were brought in including stringent monitoring of raw materials and the end products.
As the years go by, Leong Yin Pastry Sdn Bhd attained a certain level of achievement preeminent for its quality products, offering a wide range of lotus seeds-based paste with different flavors.
Within a few years after the relocation, Leong Yin Pastry went global, serving both regional as well as multi-national clientele such as Singapore, Indonesia, Vietnam, Thailand, Dubai, U.K., U.S., and another eight other countries as well.
According to Kok Fei, the path he chose was not easy and required lots of endurance in order to be successful. This industry requires one to be innovative and resourceful to overcome the many challenges and obstacles. He always leverages his strength with failure and success in equal measures.
For Kok Fei, to keep the business running is equally challenging as to start up a business from scratch. When he first joined the business, he humbly requested from his father to start learning from the lower process – from selection of raw materials up to arranging delivery of finished products. These learning processes had trained him to understand well on the flow and operation of the factory. He also picks up operating skills, to handle the technology that was brought in and to seek for advice from veteran operators.
When he was 26, he mooted the idea of replacing the use of lard in mooncake production and to introduce HALAL mooncake to the market. Although the idea was initially rejected by his family, Kok Fei believed that with hard work, careful planning and execution, he could produce HALAL mooncake. Hence he successfully gained the HALAL accreditation from JAKIM and pioneered into the Muslim's market with the first HALAL mooncake in Penang.
Kok Fei always recognizes food safety management as an integral part of food operations. With permission from father, he initiated radical changes to build up an established standard at the production site, at the same time introducing quality control measures to ensure that the whole production process is properly and adequately monitored.
The factory practices good manufacturing procedure (GMP) and is certified with HACCP, ISO22000:2009 and MeSTI. Kok Fei believes that these improved quality guarantee measures will be a leading path in the future in order to produce a product that satisfies client's needs.
With vision and business acumen, Kok Fei ensures that the business continues to grow and has evolved from the conventional methods to the current sophisticated manufacturing processes, using machinery to replace those of completely traditional methods. A massive investment has been made to introduce the latest and advanced technology in the manufacturing processes for efficiency, value and better quality products.